Riders for Health 6 Country Tour
On the 28th September, Lukas and Mike from Sinnis will be heading out from Brighton on a 6 country tour of Europe, to the Nurburgring in Germany to showcase the ever popular Cafe 125, and the brand new SP125 motorcycle. Riders for Health is the selected charity and they provide invaluable medical care, vaccines and health advice via motorcycle covering Africa, where the terrain is to treacherous for cars and too wide for travel on foot.
Mike and Lukas with the bikes
Both bikes will travel through UK, France, Belgium, Luxembourg, Prague (Czech Republic) then into Germany to the world famous Nurburgring circuit, for a few laps on the track. The Nurbergring is the oldest and largest remaining race track at over 14miles long. After completing this, the guys will then head to Intermot in Cologne (Koln) where the International Motorcycle Show is taking place. They will the head back to the UK having covered just under 3000kms in 6 days.
The donation link is here: www.justgiving.com/6Countries
The route map
The press and several companies have supported Mike Garrod and Lukas Rohulan in their efforts to complete the trip, and will continue to follow them through their journey.
"The trip will be a great adventure, and raise money for an amazing charity with a full video log (Vlog) and pictures along the way", said Mike Garrod from Sinnis, "This will showcase both our new bike the SP125, which is designed and built for enjoyable commuting, and the Cafe 125cc – which has proved to be hugely popular in 2014. We will be camping, and taking in the sites and smells of a good Euro adventure, and also showing that you do not have to have a £5000 budget for an amazing time on a motorcycle. The British government will also match any donation £1 for £1 for this trip – so please help by donating to a worthy cause for likeminded bikers". Mike continued, "A big thank you must go to Nitro Helmets, Muvi K series (No proof no glory) Video cameras, Twisty Ride Motorcycle Iphone mounts and also to the guys and girls that do the hard work for Riders for Health. Please give something, even £1 means £2 goes to this charity!"
You can follow the videos and build up on any of the following sites -
Facebook:
www.facebook.com/SinnisMotorcycles
Youtube:
www.youtube.com/channel/UCDp7fAt-QoLqxGd0Vv21gOA
Vimeo:
www.vimeo.com/sinnis
DailyMotion:
www.dailymotion.com/SinnisMotorcycles
And on the blog Tumblr:
www.tumblr.com/blog/sinnismoto
7 Countries, 7 Days, 125cc's
---
Ok so its not around the world, but I thought 3200 kms in 7 days, through 7 countries for Riders for Health was pretty impressive. Oh, and on Chinese 125cc bikes!!
We wanted to take in the Nurburgring on the tour too, for a couple of laps
The purpose of the trip originally to highlight our new model we are releasing the SP125 and one of our other models from 2014, the Cafe 125cc, but I soon realised that charity could benefit as well as the good publicity for our own brand Sinnis Motorcycles, here in the UK. Also we wanted to prove that you dont have to own some £10,000 bike to see the world and have an adventure
We started from Brighton UK, and in 7 days had "done" France, Belgium, Luxembourg, Germany, Czech Republic and the Netherlands and covered 3200 KMs with Zero break downs, a small crash, two new rear light bulbs and a change of spark plugs (Just as preventative maints).
Ok the gear - this is the thing we were warned about. And good god they were right. Best gizmos in the world? Bluetooth headset from Chatterbox (saved our lives many times) and Iphone 5 waterproof bike mount from Twisty Ride (When the crap Garmin satnav gave up, the trusty Iphone was the only way - even in a monsoon this thing was amazing). Also I have to mention my Nitro helmet - it was £100 and it was absolutely brilliant!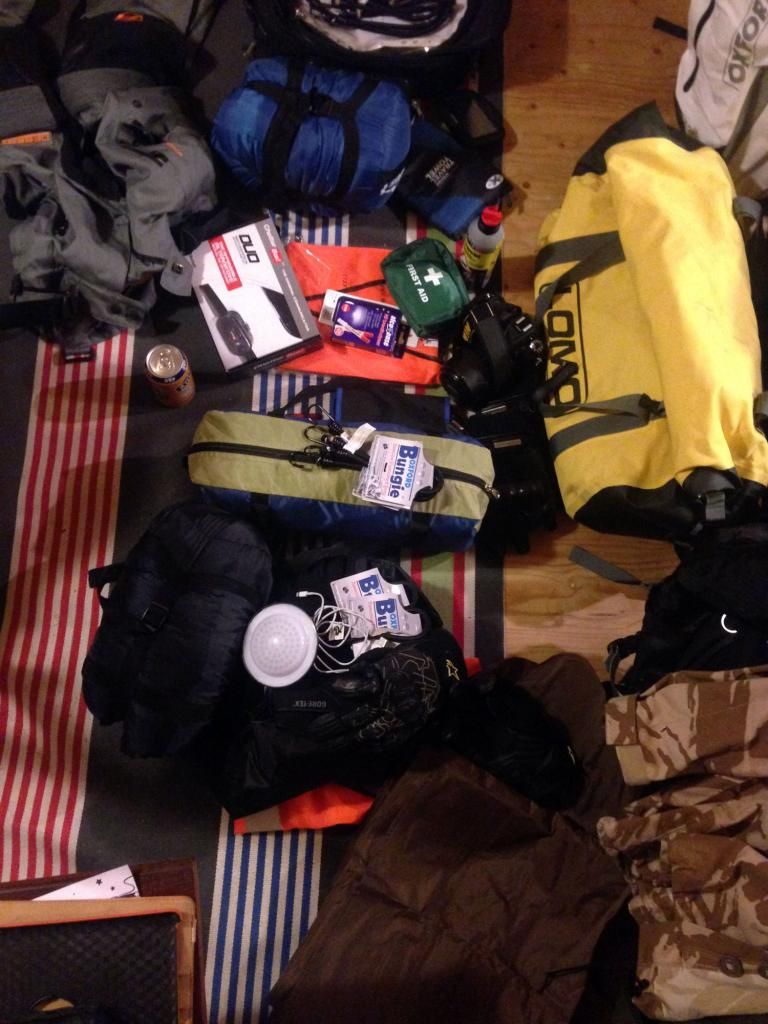 Before the trip we threadlocked and checked all of the nuts on the bike, and also threaded a new clutch cable and throttle cable to rest along side the old one on the bike (quick change if needed). We didnt change the tyres (everyone bangs on about crap Chinese tyres in the wet, and I wanted to disprove that on our bikes in particular), and we put 250 miles on the bikes and then serviced them the day before leaving. Spares - we took a spark plug and reg rec, plus a few bulbs.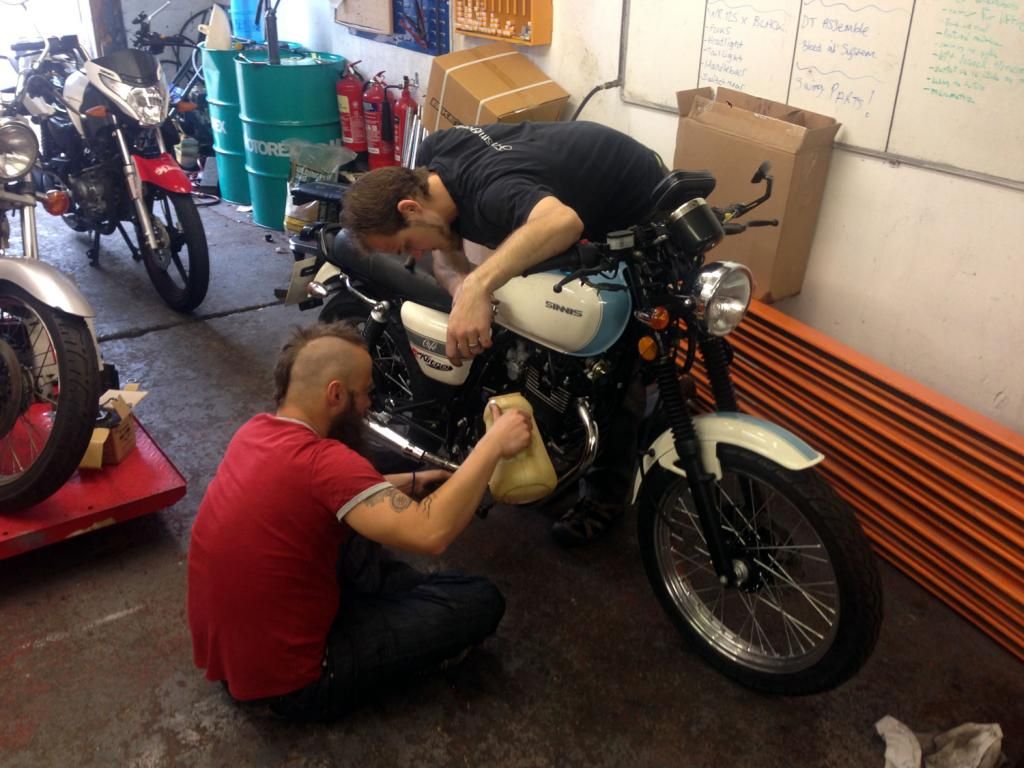 We left on Sunday afternoon and headed from Brighton to Ashford in Kent to catch Le Shuttle. (Underground train (under the channel) from UK to Calais - takes about 25 mins) Met some cool French Po Po who were very interested in the adventure, but they wouldnt let me photograph them.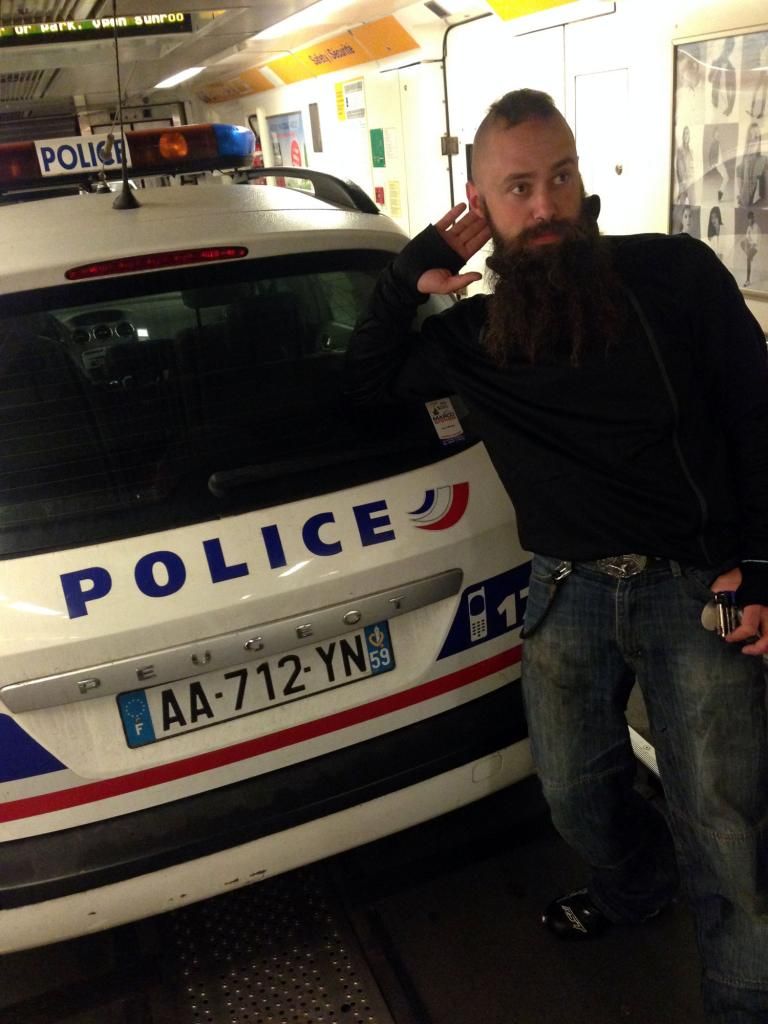 Once in Calais we blazed up to Belgium, in particualr Bruges. I (the 6'2" 17 stone one) have been there before, but my colleague Lukas (bigger beard - ZZ Top revival) had always wanted to go, so it was first on our hit list.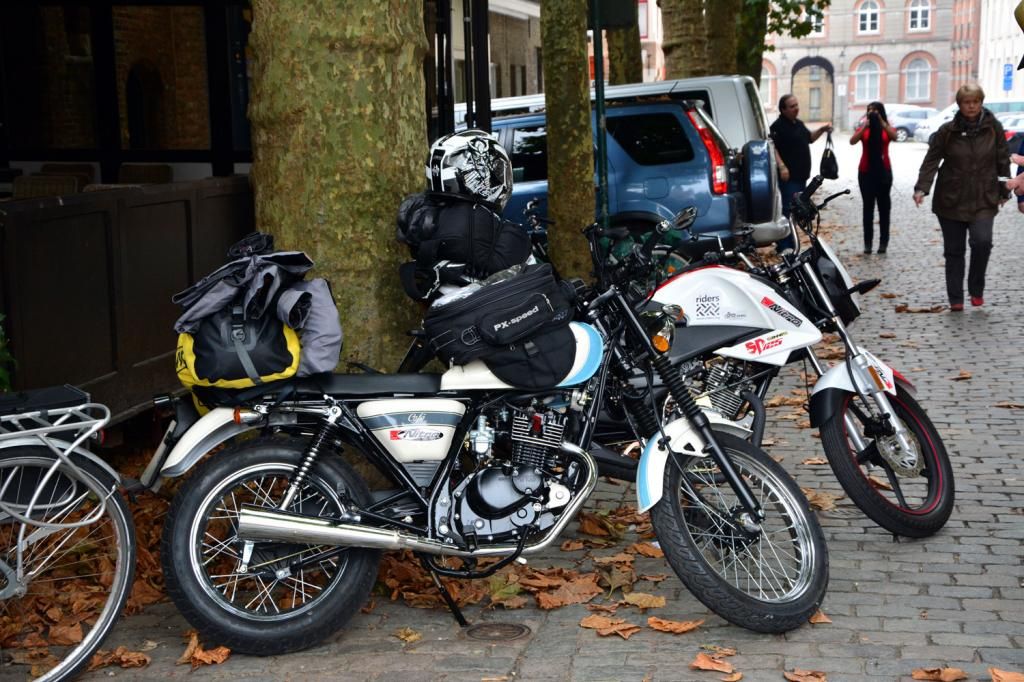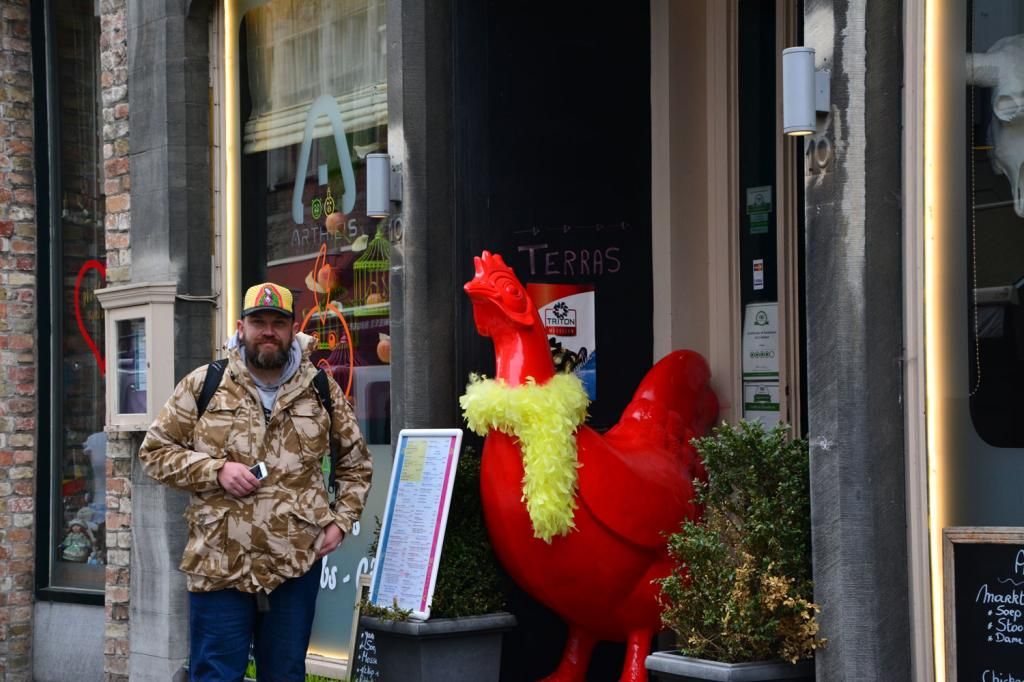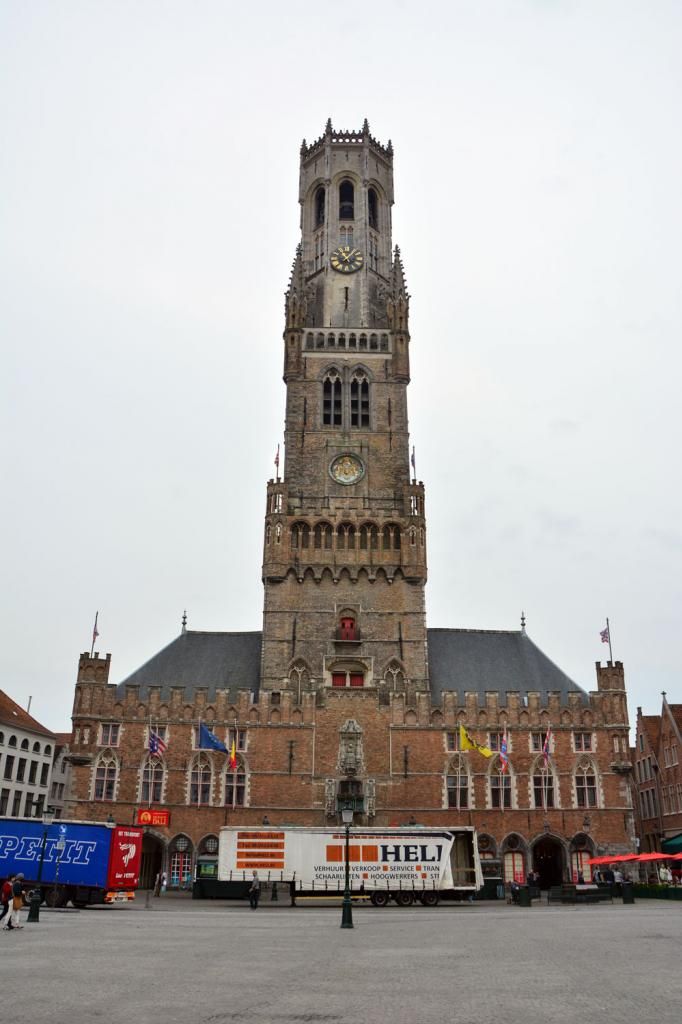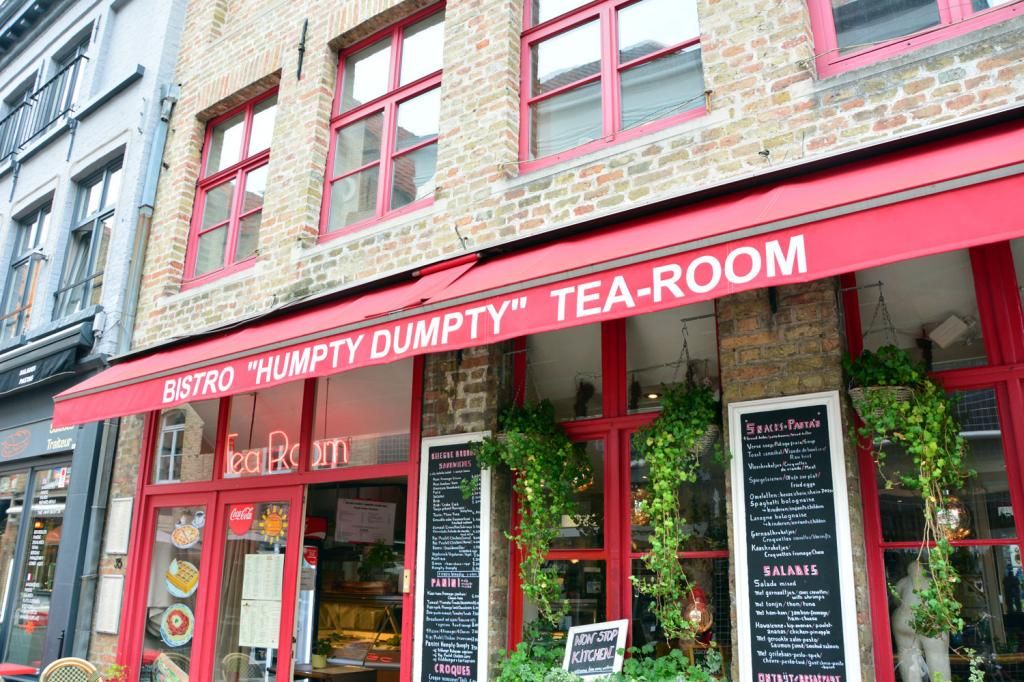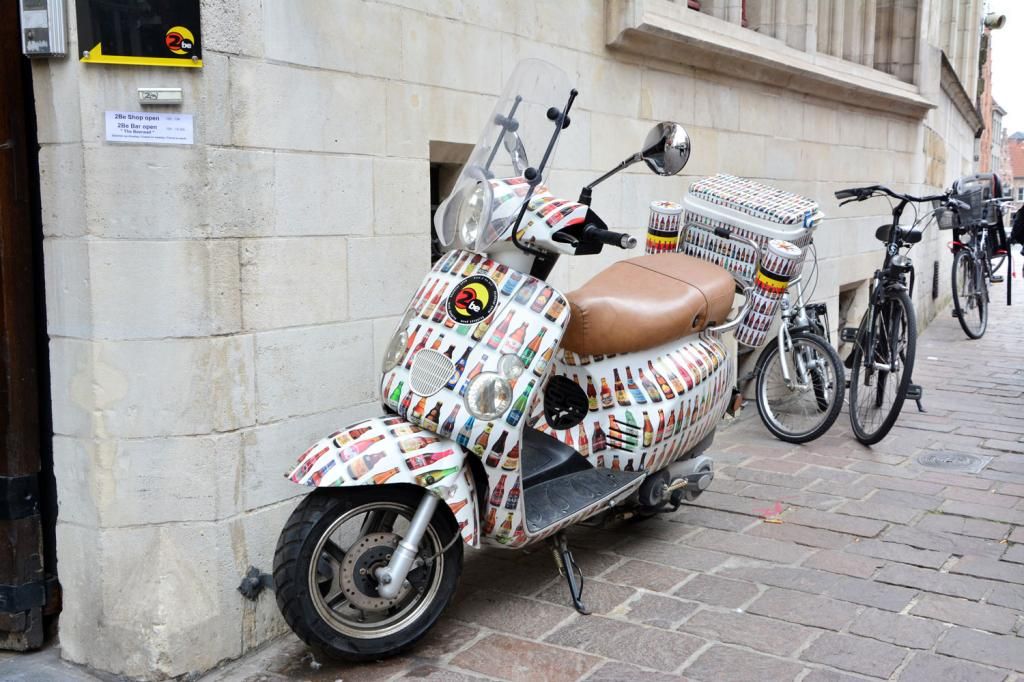 After a couple of hours walking about sampling waffles, chocolate and the clean air (and overpriced ..... everything) we got back on the bikes and headed to Spa Francorchampe racetrack - our stay that night was at AEAventures, biker only really friendly accomodation. Neil (the owner) and his wife, have an awesome set up, not to mention he is a Nurburgring instructor and does conducted tours etc. The place is full of memorabelia and they even have a dry room, so the massive down pour we suffered on the way (which soaked absolutely everything) didnt ruin our time - as by the morning it was totally dry! AE Aventures is located withing the old Spa racetrack, and next to the new one - an absolutely amazing location!! I will be going back - without doubt
A view from AE Aventures - you drive through this forest on the way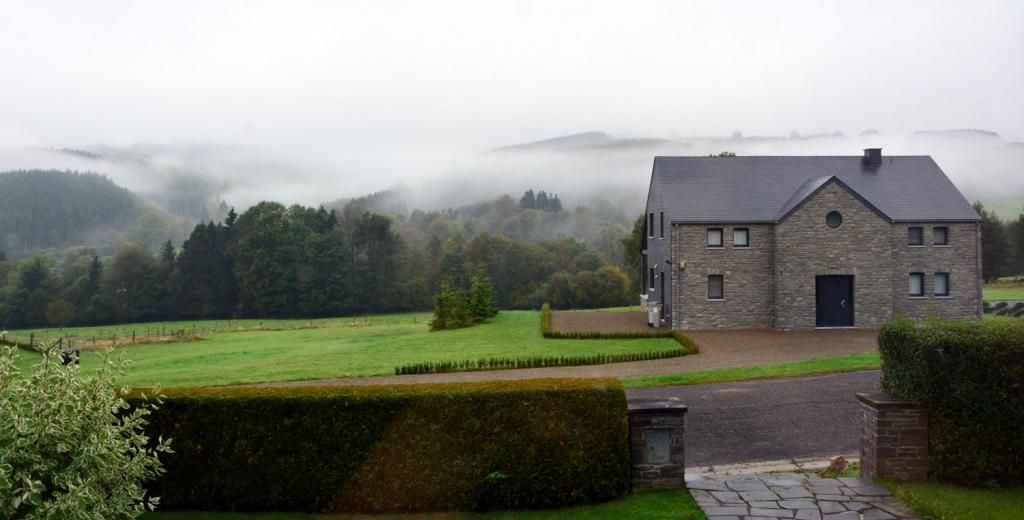 Their website is here -
http://www.aeaventures.com/
I could live there - its beautiful
So far we had had, one massive down pour, and no dramas (other than the price of Tourist food) and fully ladened the SP was doing 62 mph and the Cafe 70+ on the motorway. We didnt want to do much more motorway though - so A roads it was
More updates coming
Ok after leaving AEAventures and having a long chat with Neil about taking 125cc bikes onto one of the fastest public tracks in the world, we decided that we would pop to Spa Francorchampe circuit and then head to "The Nurburgring"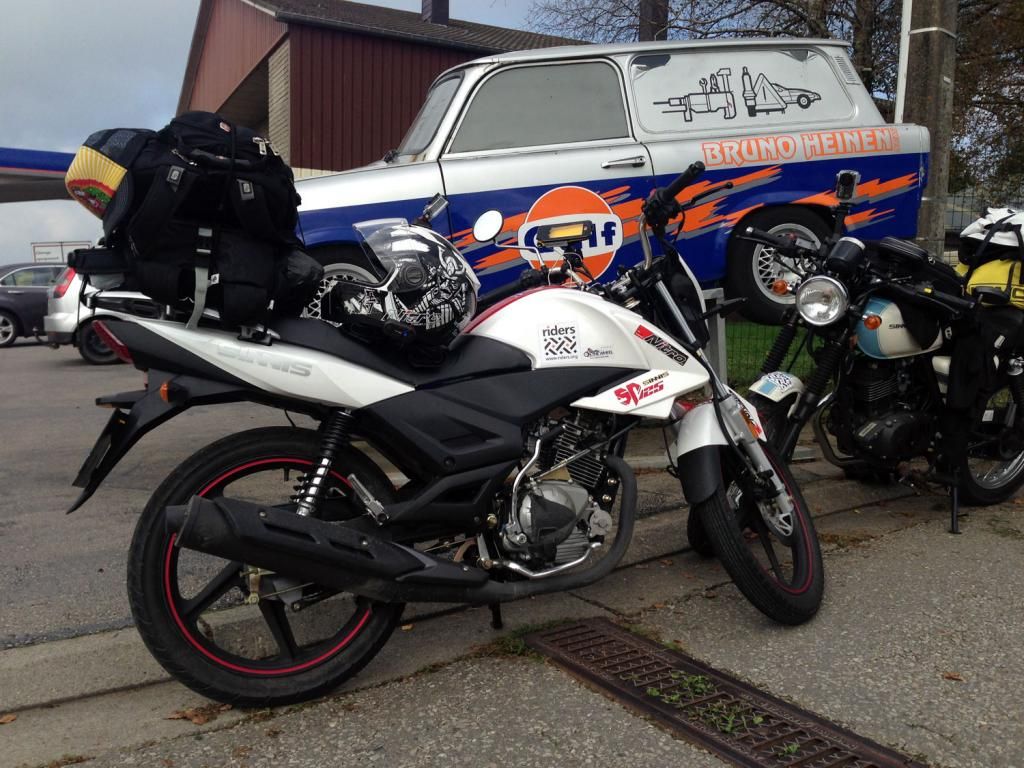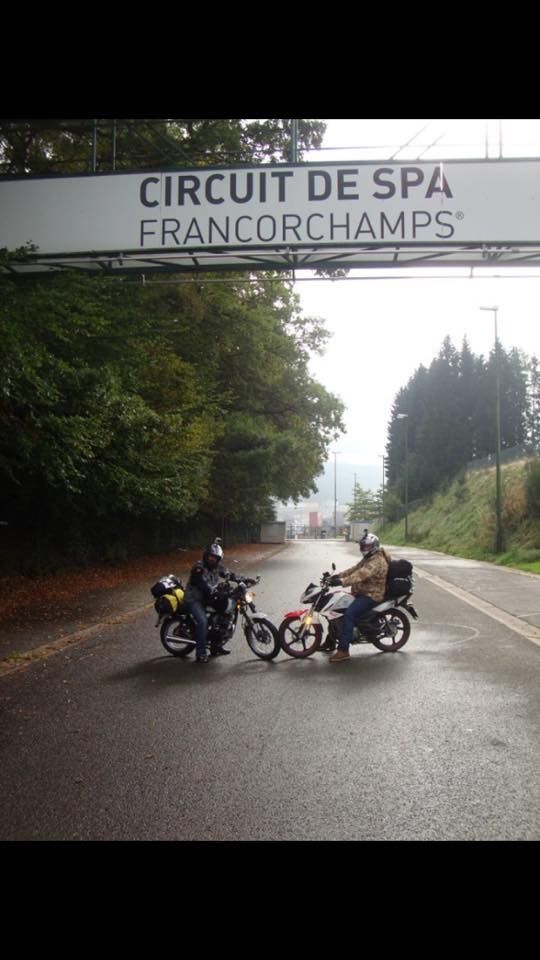 When we arrived at the Ring, we witness the speeds that some cars were doing on the track and decided that for safety reasons we would not go on. To be fair if a car is doing 80mph around a corner and they see me in front doing 25mph exiting the corner - it would not be a good outcome. Beautiful place and setting anyway - so we were really glad we went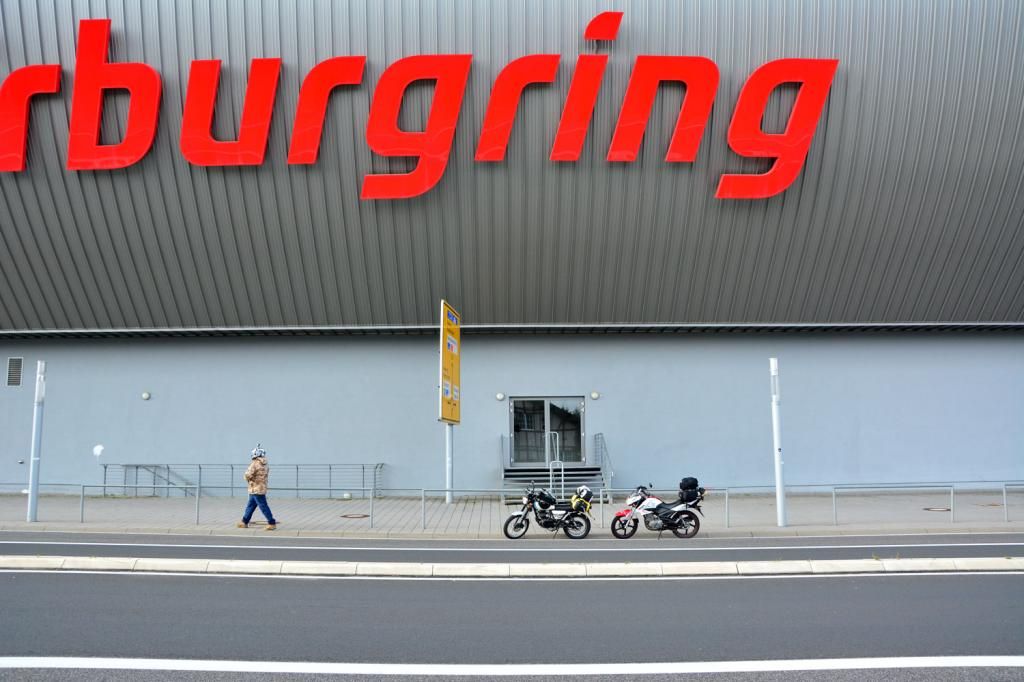 While we were there, sipping coffee we got chatting to two guys (One from Canada and one from Germany) who were best friends and had never been on a bike before - so we though we would give them lessons.
We then headed off via Luxembourg to make our way to the Czech Republic
The Bavarian hills were just amazing (we got so much video footage!)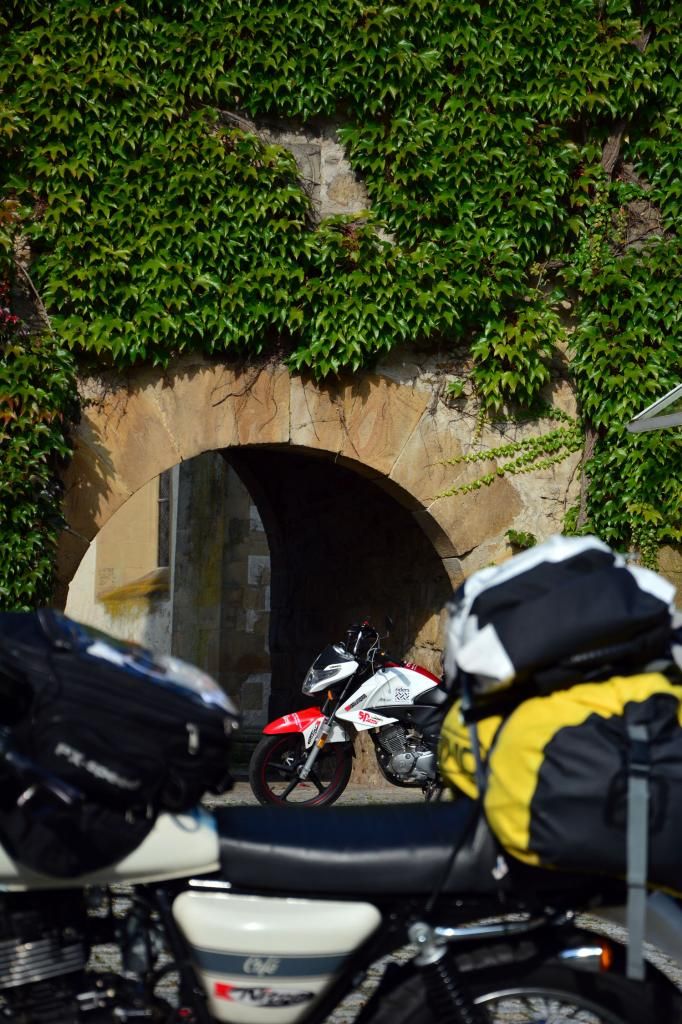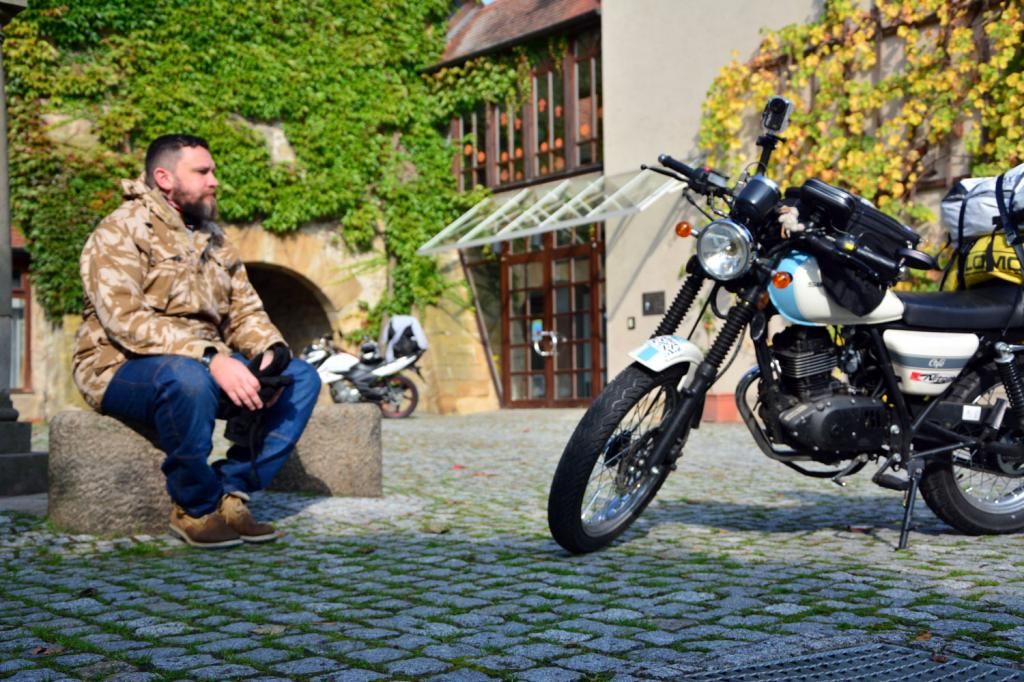 Another ridiculous down pour and then (with sore arses) we made it through the black hills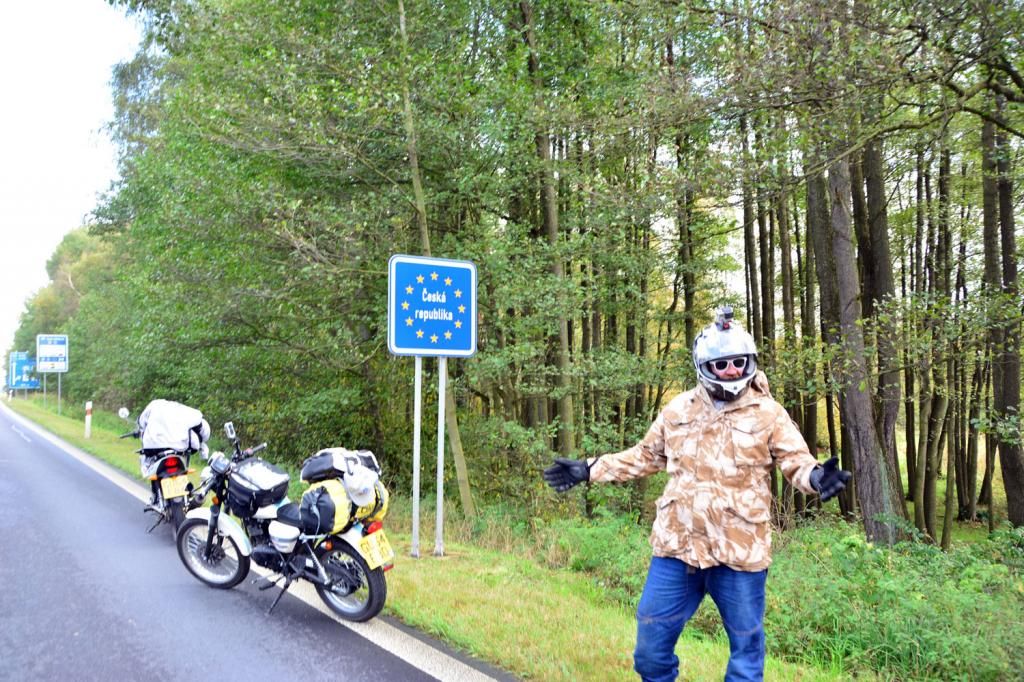 Once in Czech we decided to aim for Prague, and then up into the mountains to a place called Liberec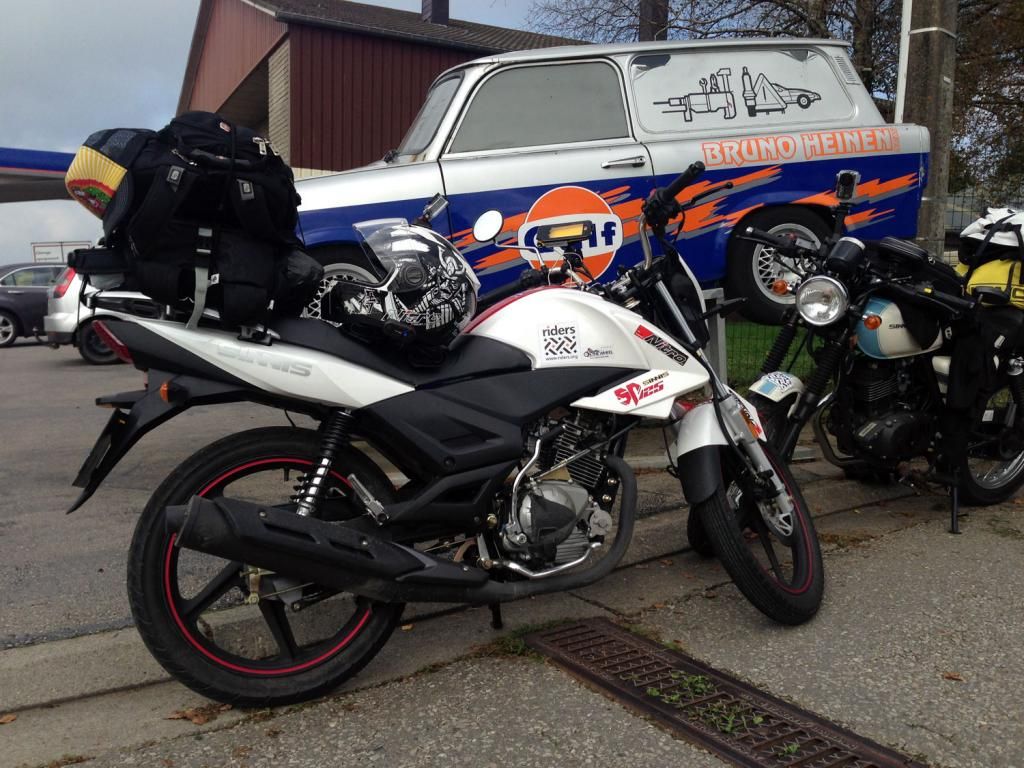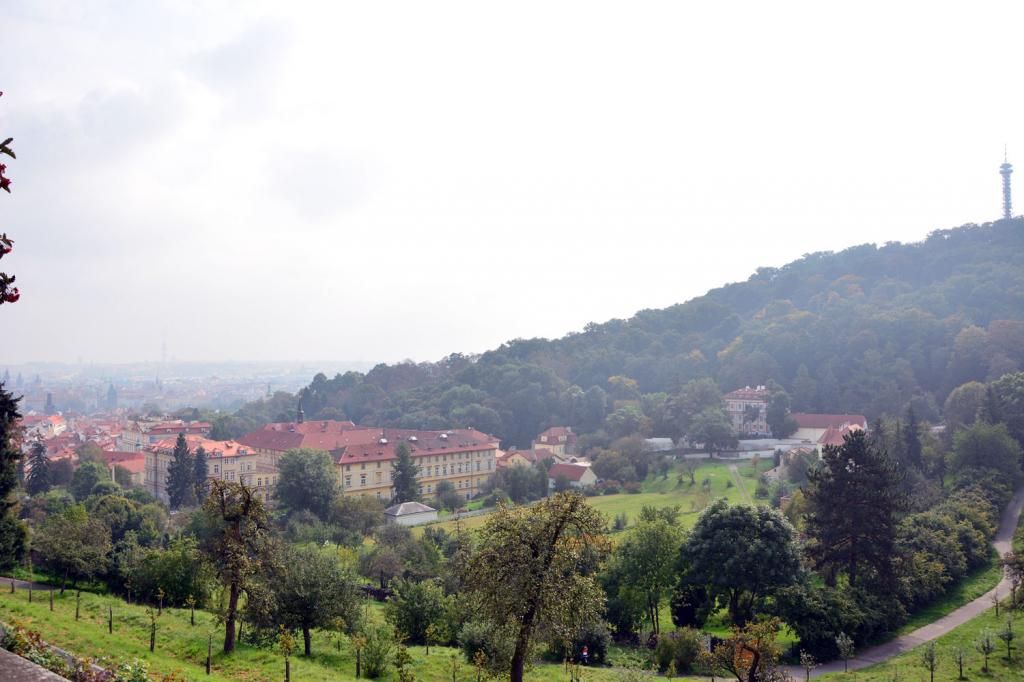 Found an awesome tea house in Prague
Excuse my MC Hammer trousers - everything was in the laundrette
Astonomical clock in Prague
Ok so from Prague we headed up to Liberec to meet the editor of Moto Haus magazine. The biggest mag in Czech Republic.
This man was about 6'8" - great guy, even let us stay at his house.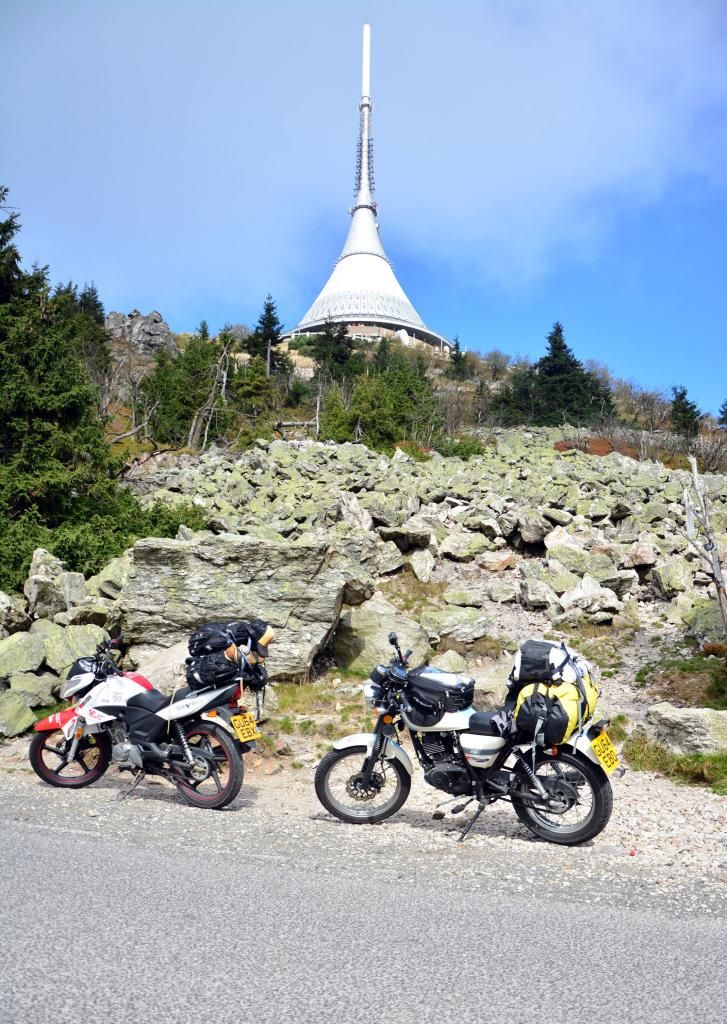 S&S bed fellow!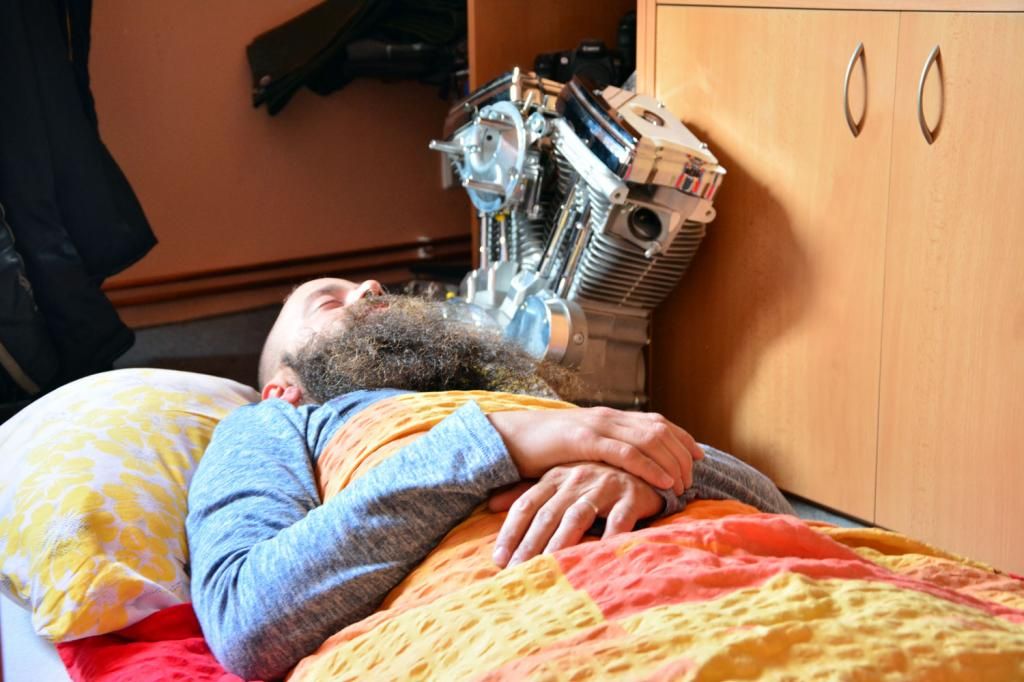 Mr Somic - 6'8"
He rode a KTM Adventure - and still dwarfed it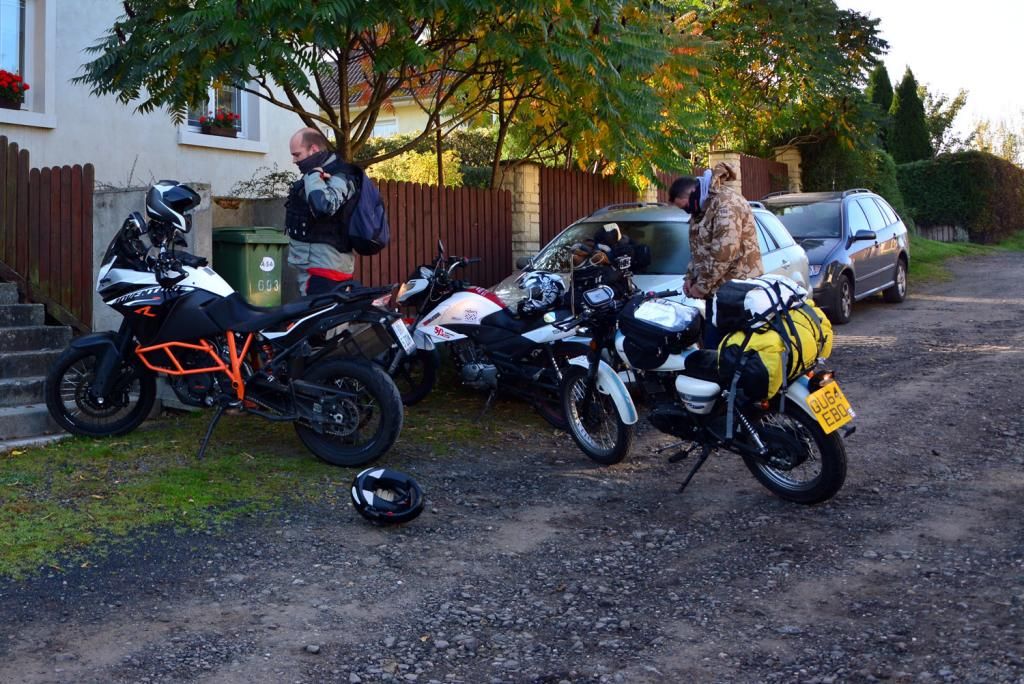 Good old language barrier
We then decided to leave for Leipzig, Drezden and to explore Germany
At this time we had replaced rear light bulbs on both machines. During the Bavarian adventure the Cafe hit some Diesel in the middle of the road and Lukas slid for about 200 yards. No injury other than pride and a shoulder ache, and the Cafe suffered scratched exhaust and broken rear light. Luckily the luggage on the back cushioned the blow - but ohhhhh the pride took a beating. As he normally rides a BMW GS - he felt bad, but I assured him it could happen to anyone (really!)
We then headed for Dresden, steeped with history and culture (The Allies effed this place up good and proper in WW2 - well done boys)
One of the most beautiful places I have ever seen.
The only problem - German public holiday, no hotels at all. We arrived middle of the night and no where was available. We eventuially found two bed in a hostel called Lollis Hostel. It was amazing, the best hostel ever (that I have seen) and just up the road from the Heavy Duty Metal bar. So we decided to let our hair down - too much
Stay here - 14 Euro per night with bedding and nice showers and really cool staff
I left my gear in the room and was about to leave when lovely german girl came to see me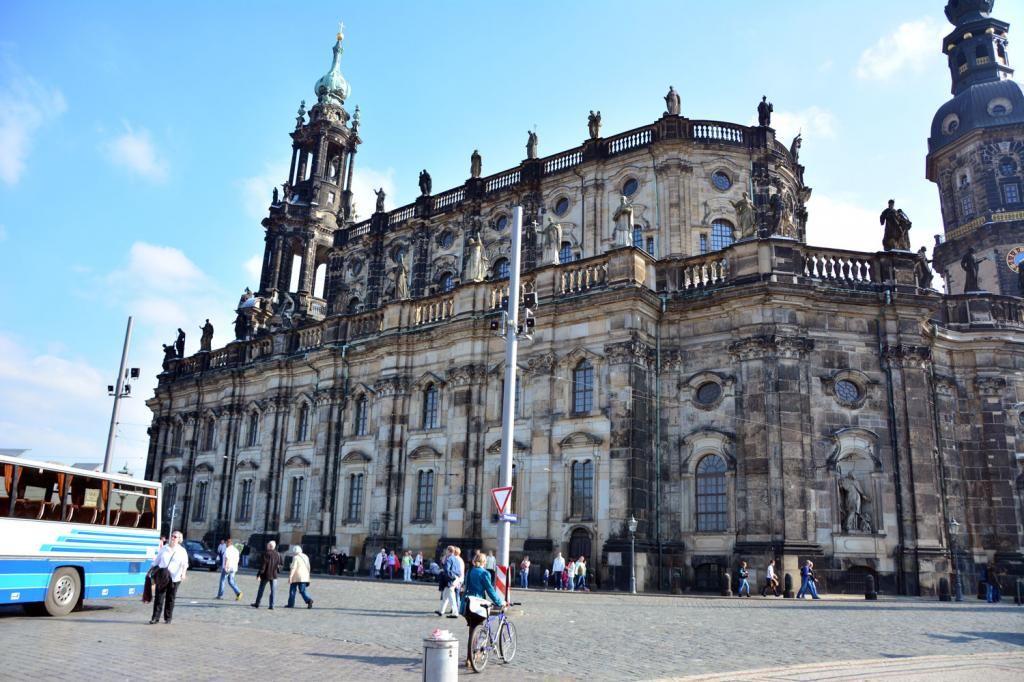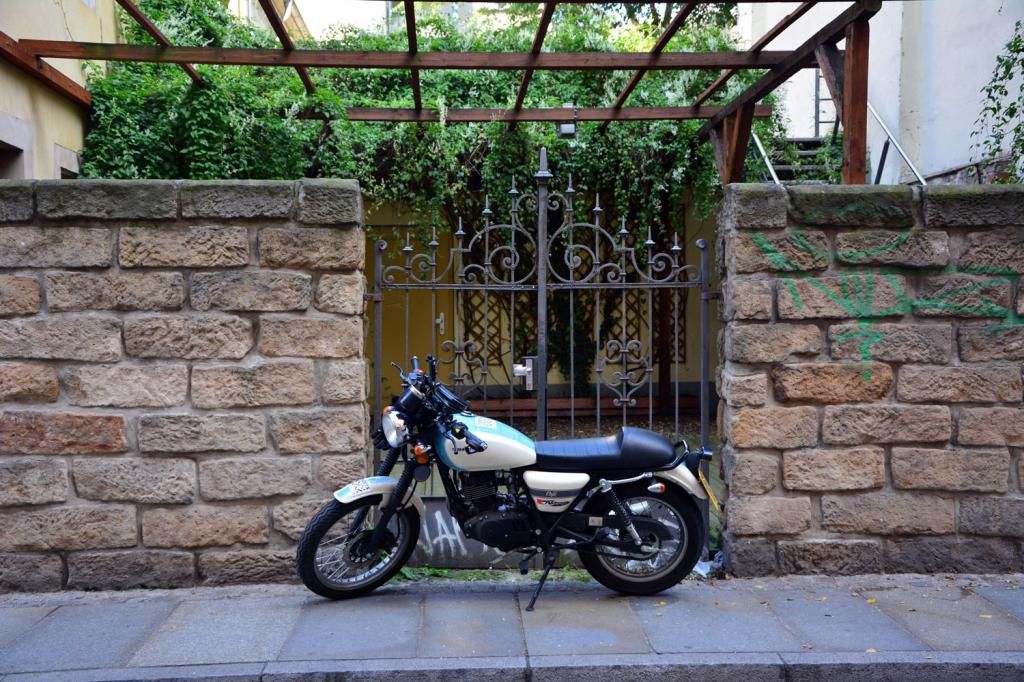 Met a German CX rider, travelling the whole of Germany. He loved our SP125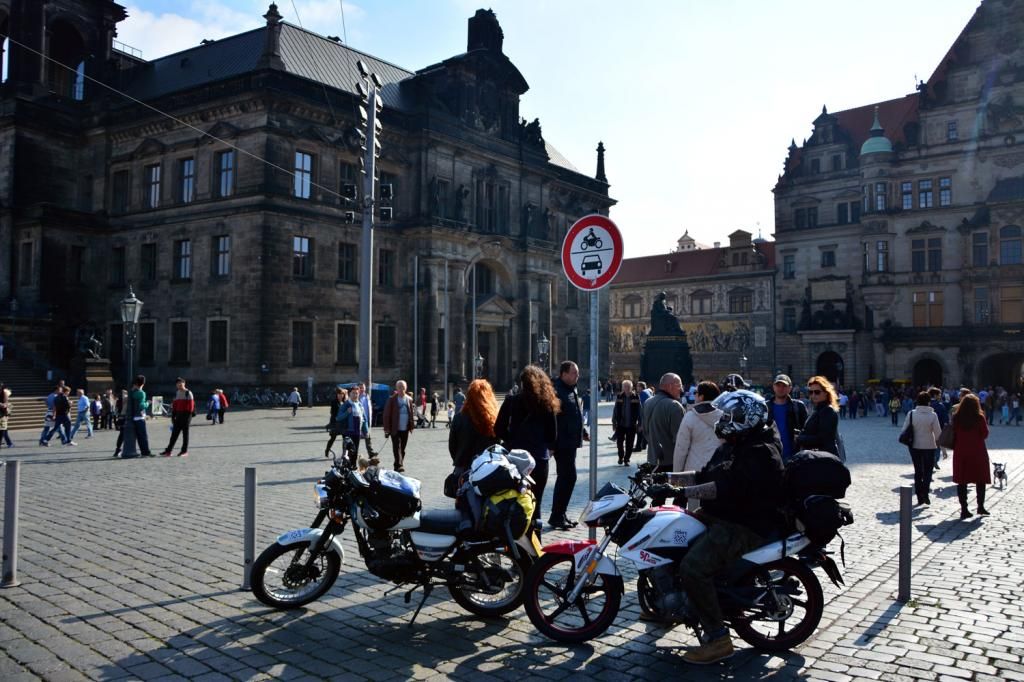 After one massive hangover - from hell, and a huge breakfast we moved forward to Leipzig. I might add this is all on A roads, so time was slow and beautiful. Never take a 125 on the Autobahn - its dangerous enough at 100 mph
Proof the beards rock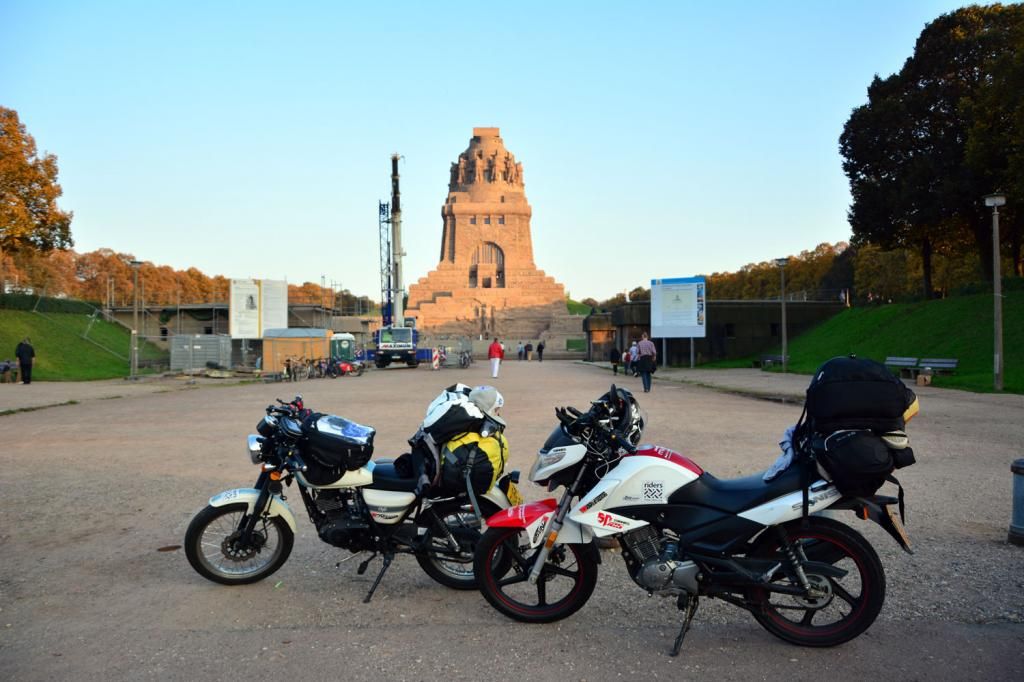 Missed my girlfriend - and she informed me we are having a baby over the phone!
Met some really cool people with some beautiful Simpsons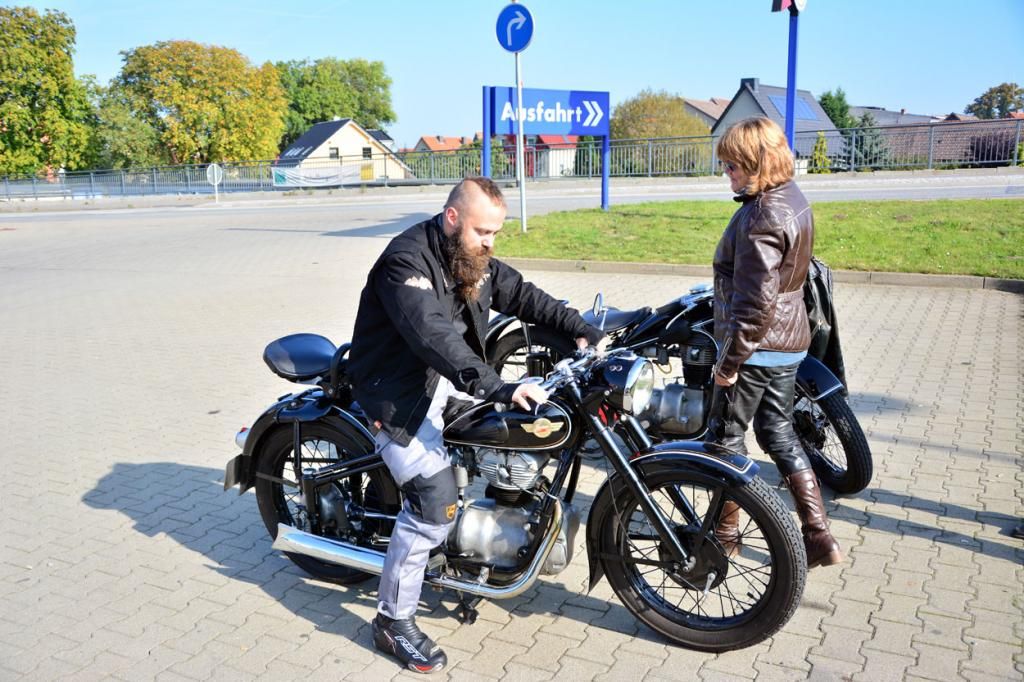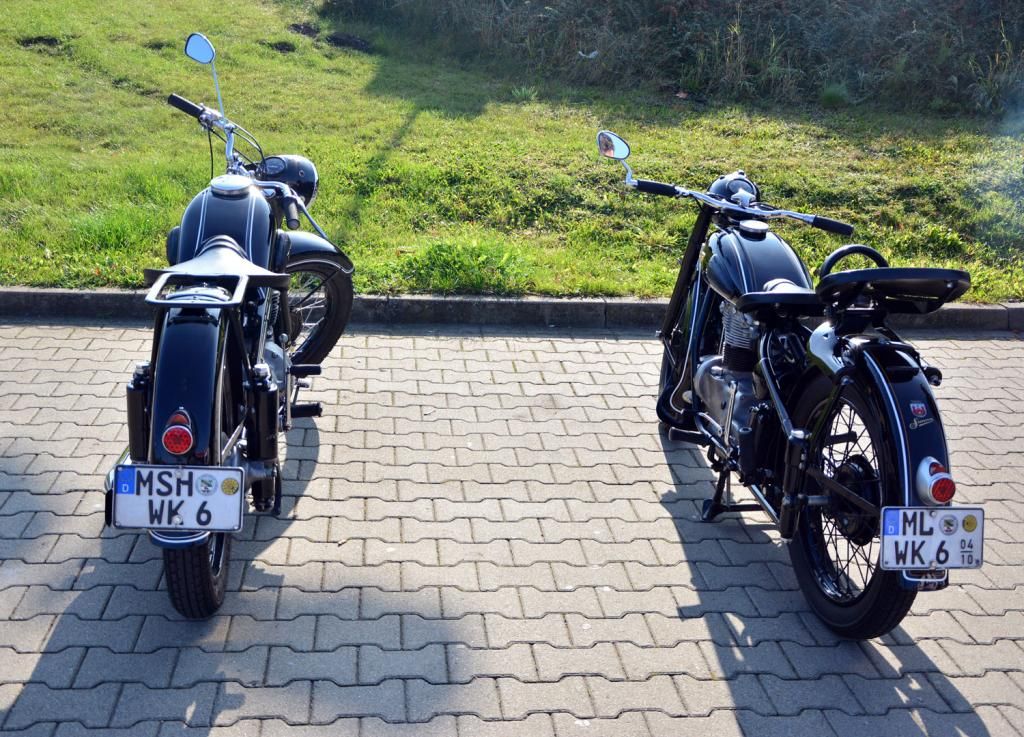 Just found this picture - shouldnt be too hard to outsmart the law here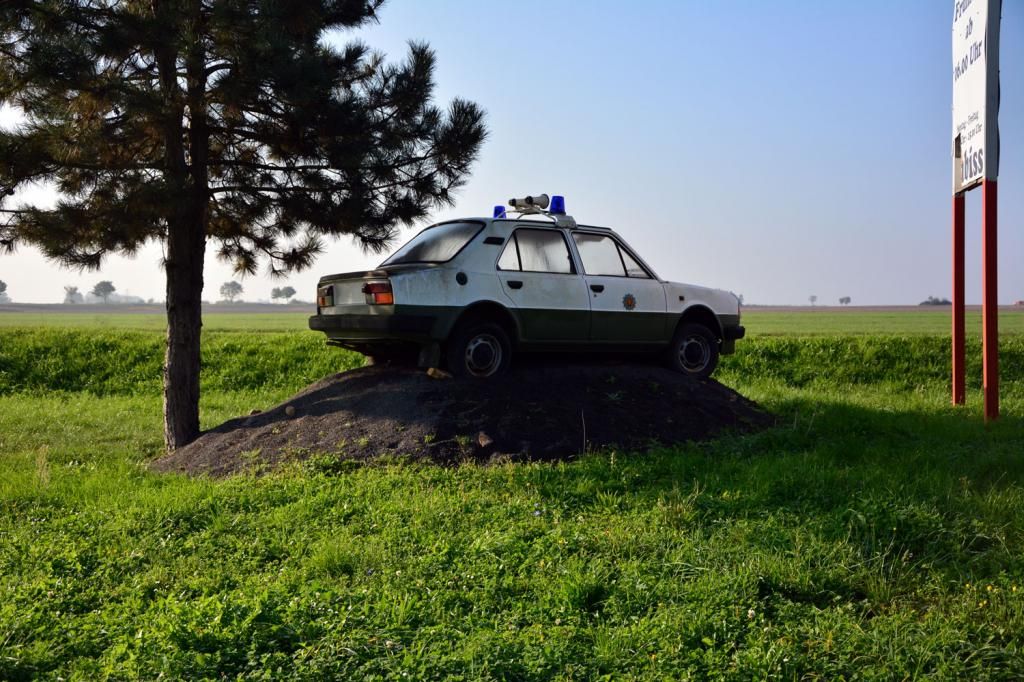 We then found THE BEST biking road in Europe. Full of waving bikers, twisty roads, countryside and cafes and things to see.
Lovely German food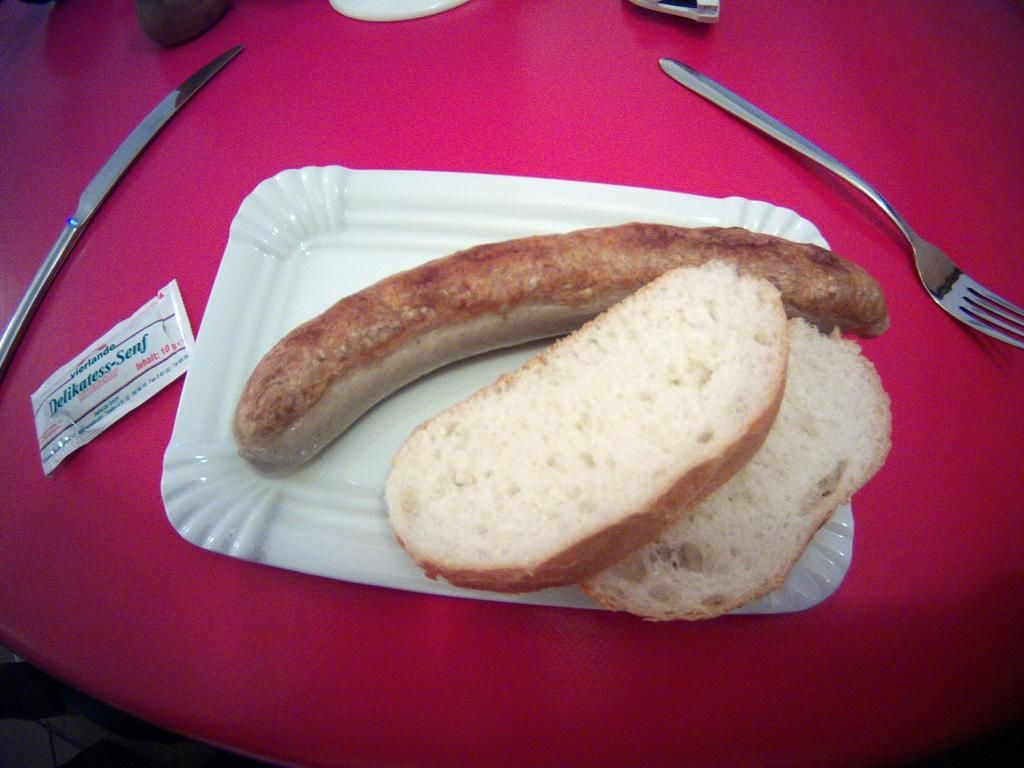 Quick change of spark plug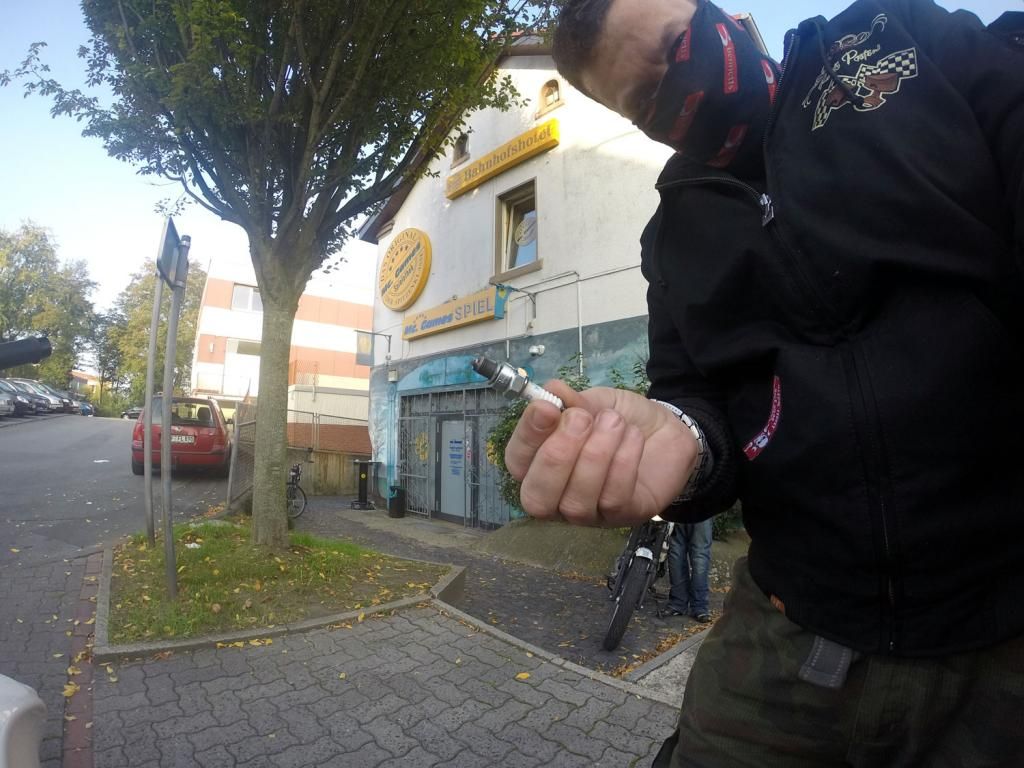 Just precautionary - didnt want to be doing this on the side of a rainy highway.
Then off into Germany where I witnessed this. The greatest machine I have ever seen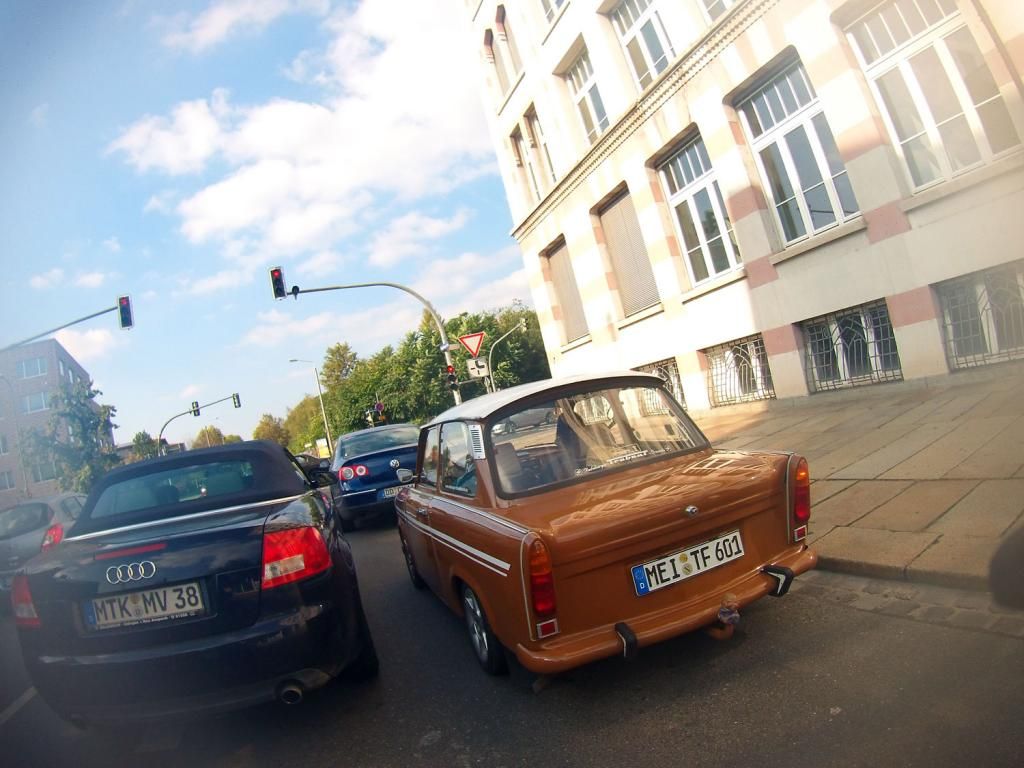 Runnng something defo not a 2T spitter. We exchanged waves, nods and the obligatory blat of speed then on our way again
After seeing the lovely sights, and my boss informing me that we were behind schedule the route looked like this.
All on A roads. So we took the option of Germany on A roads, then get to Netherlands then hit the Motorways. At this point I may mention that off all of the drivers I have ever witnessed - Belgian Motorway drivers are unique. This is my own personal (and a few others I have chatted to) opinion, but lets just say, If they had a Belgian driver awareness course, no one would turn up. Becuase they would have all crashed into each other on the way.
Rain, agressive overtaking and lots of cutting up, trucks that try to race you - they have it all. (Ok maybe the rain wasnt fair).
Not much to report about our brief session in the Netherlands
Other than goats, friendly people and motorway - boring old motorway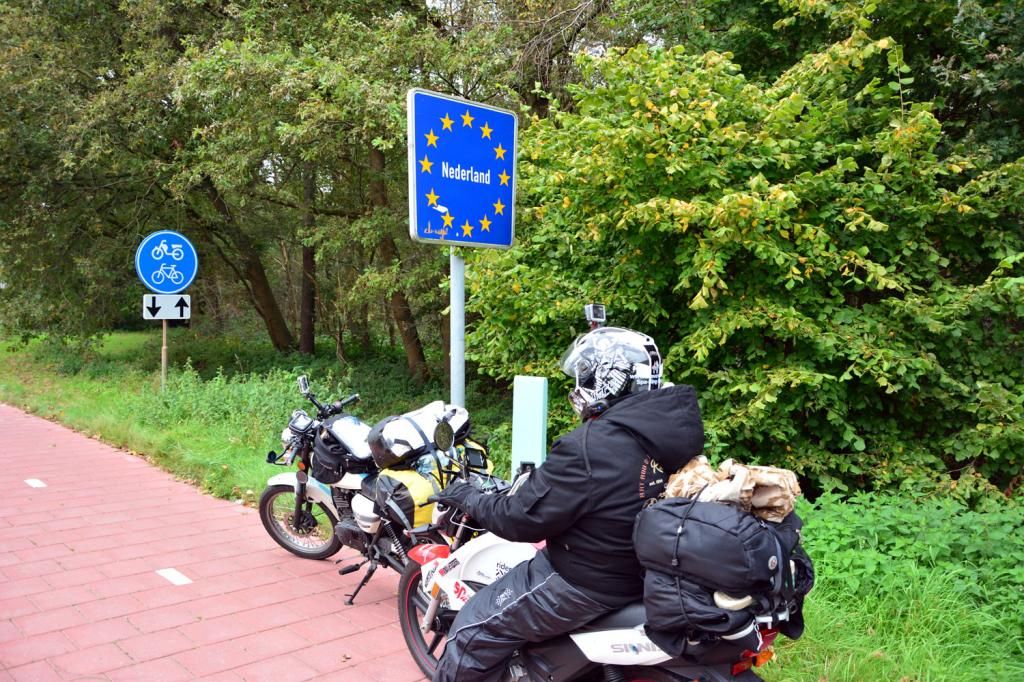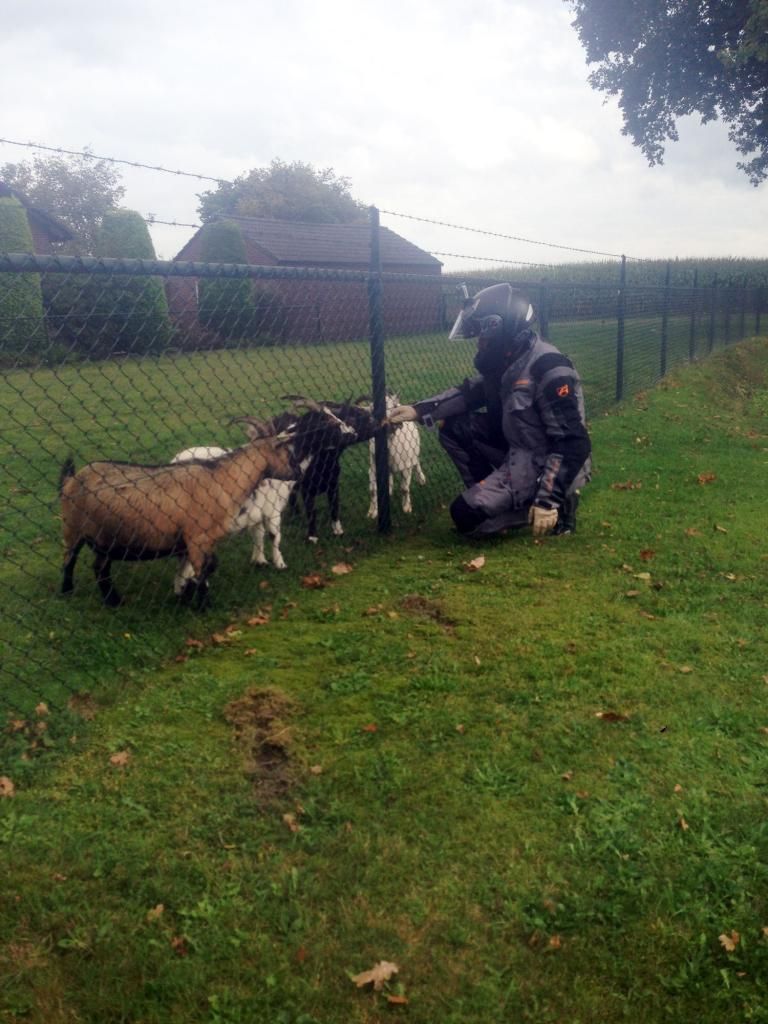 And tiredness outside an old people home we stormed for tea and cake
They loved us - I think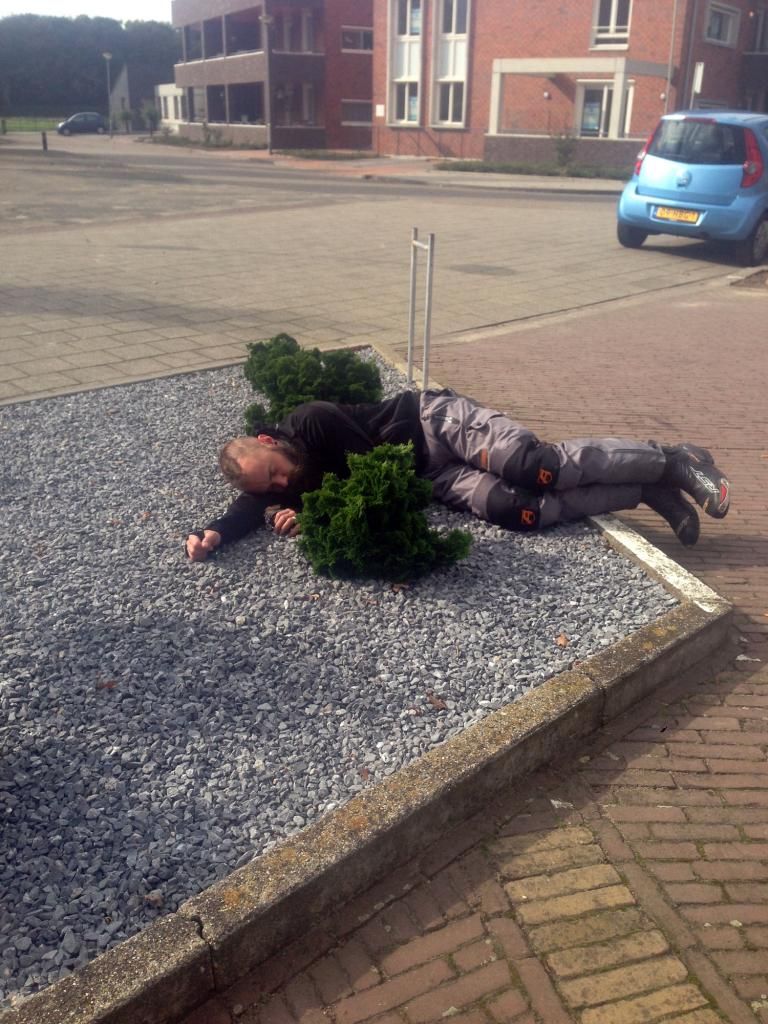 I let someone take a pic of my beard - she then ran off and showed her mum. This was the response
Quick stop in Belgium again
then back to crappy Calais for 10.30pm in the pouring rain.
The excitement fully gone
Then a mad dash from Kent down to our beloved Brighton for 1am - in the rain. You cant beat your own bed!!
So all in all - to sum up
3200 kms or 2000 miles on two Sinnis 125cc Machines through 7 countries. No breakdowns, the bikes cost £1500 for the Cafe and £1295 for the SP125 and the kit (which could have all been dumped bar the Lomo bag, Twisty ride Iphone holder, Chatterbox Bluetooth set and a decent coverall waterproof suit). Id say not bad at all
Didnt even swap the tyres out for stickier ones and the only maints was a spark plug and a couple of bulbs.
Raised a bit of money for charity too. How bad can it be?
I loved it all - even in the monsoon. I have loads of Go Pro video and Muvi Video that im now editing (we had four cameras)
I woke up the next day wanting to get back out there. Ok, maybe on a 250cc + machine, but thats only because of speed on the motorways. The 125s were perfectly capable on the A roads.
Great experiance. And would gladly help anyone else in their quest to do the same
New arse please
Watch the videos
Find out more about the bikes
The Sinnis Cafe 125
The Cafe is a machine that hankers back to the 60s Cafe Racer days. A beautiful machine to ride and to look at, it turns heads wherever it goes. Its built with care and attention to every part of the machine, and with a quick reliable 125cc 4 stroke engine thats designed to put a smile on your face when you open the throttle. This is retro with all of the modern advantages. Read more about the Sinnis Cafe 125
The Sinnis SP 125
The SP125 is designed with style, comfort and rideability in mind. Excellent build quality, good seating position and a really zippy Yamaha based engine, make this bike perfect for the daily commute, or if you fancy a spirited ride at the weekend. Digital dash display, very smooth 5 speed gearbox and astounding quality mean that you can enjoy every ride on the SP125. RRP from £1249 and release date November 2014.